An ASP louvre damper is a robust and reliable control and shut-off unit, used in air conditioning applications for different purposes.
* ASP -1 single-louvre damper/ manual control device
* ASP- 3 sealed control and shut-off damper / actuator base
* ASP- 3E sealed shut-off damper, heat insulated louvres / actuator base
* ASP -3EK sealed shut-off damper, heat insulated louvres and housing / actuator base
Use
The single-louvre damper is used for regulating and controlling air flow in various air conditioning units and air conditioning applications.
Features
* ASP -1 control damper for balancing air flows
– tightness class 1 CEN
– housing tightness class
Product information
A body assembled of hot-galvanized sheet steel is a robust and durable. Louvres are profiled to be rigid, and are articulated for pivoting. Round damper shaft, diam. 15 mm polyamide bearings. The maximum operating temperature of standard damper louvres is +85C.
All louvred dampers are also made of acid-resistant, stainless and Al Zn sheet.
Dimensions
Dimensions for rectangular ducts or vents compliant with the standard SFS 3281 with guide strips; for round ducts compliant with SFS 3282, with connection couplings fitted with seals.
Tailored dimensions can also be produced flexibly and fast.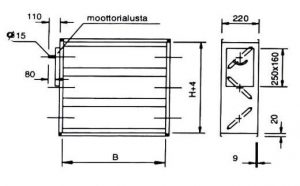 RECTANGULAR SHEET
ROUND CONNECTIONS
for SFS 3282 compliant ducts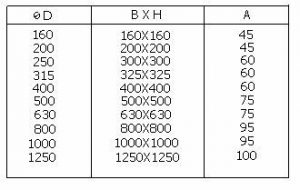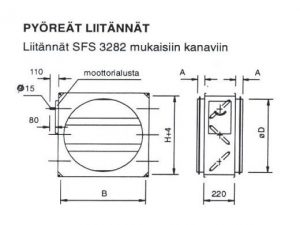 Torque depends, among others, on the type of sheet, the width to height ration, the length of the sealing surfaces, and the installation at the application site.
The required torque and the recommended motor capacity according to the frontal area.

Maximum permissible torque: 50 Nm.
Maintenance instructions
Once a year or more frequently, if required, coat the articulation and bearings
with a thin film of oil or Vaseline (e.g. WYRTH HHS 2000).